Roasted garlic and cilantro sandwich roll
This page may contain affiliate links. As an Amazon Associate, I earn from qualifying purchases.
YIELD
6 or 7 six-inch rolls (or 3 longer ones)
PREP TIME
35 minutes
COOK TIME
1 hour and 10 minutes
TOTAL TIME
5 hours
Ingredients:
Roasted garlic
2 heads of garlic

olive oil

salt
Dough
480 grams bread flour (4 cups)

9 grams instant yeast (2 teaspoons)

13 grams granulated sugar (1 tablespoon)

14 grams olive oil (1 tablespoon)

8 grams salt (1 1/2 teaspoon)

360 grams water (1 cup)

all the roasted garlic (from above)

3 tablespoons cilantro, finely chopped
Directions:
Roasted Garlic: cut the top third off of two heads of garlic, exposing the tops of the cloves.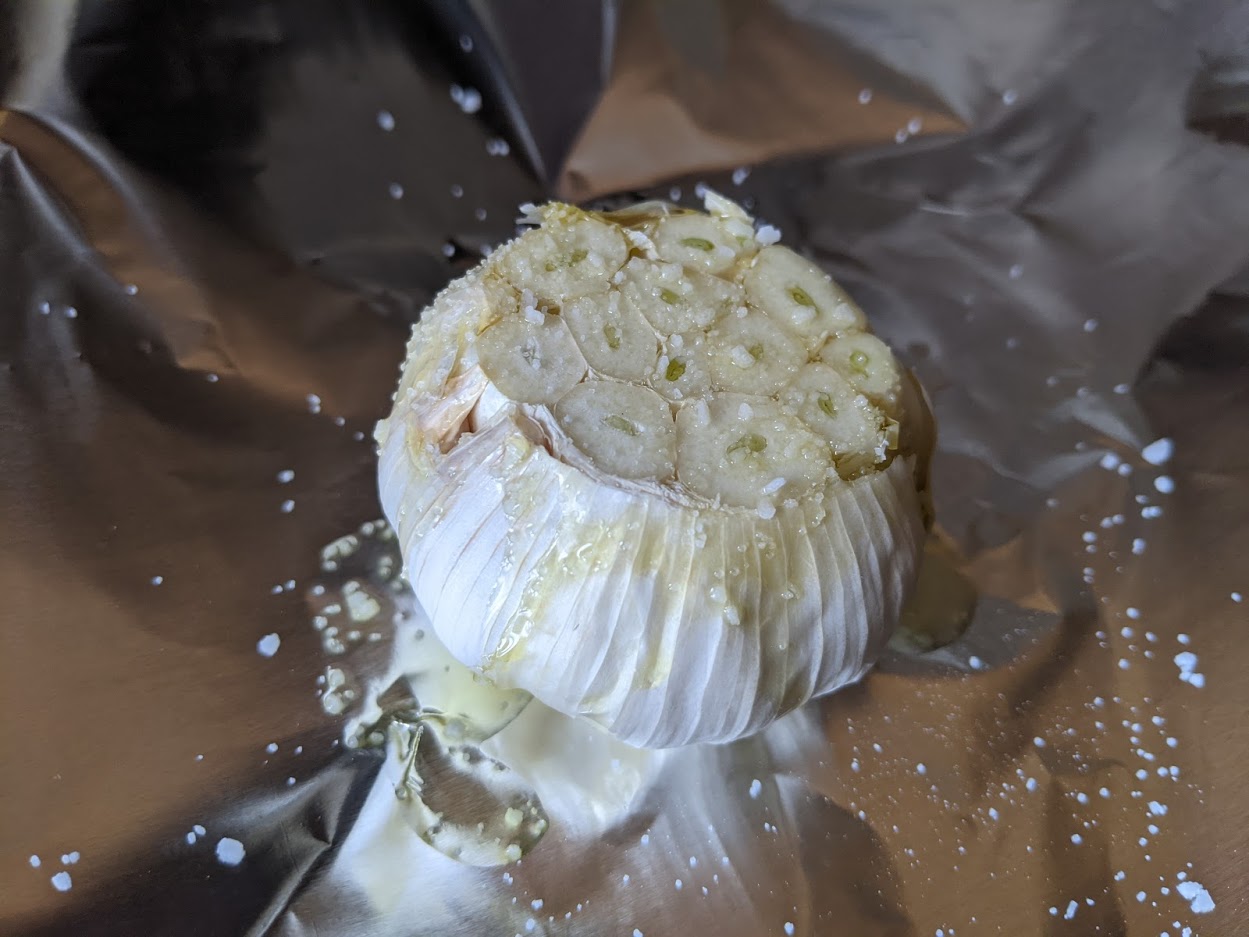 Place the garlic on a sheet of aluminum foil and pour one tablespoon of olive oil on top of each head. Sprinkle a small amount of salt on the garlic and wrap it in aluminum foil.
In a 400 F degree oven bake the wrapped garlic head (or heads) on a pan for 45 to 50 minutes. Remove garlic from oven and allow to fully cool.
Once the garlic is fully cooled, you can squeeze it to squirt out the softened roasted garlic into a bowl to be used in the next step.
Dough: when you're ready to make your dough, add all dough ingredients into your stand mixer or if you're mixing by hand, add to a large bowl.
If you're using a stand mixer, mix/knead the dough with the dough hook for 8 minutes and you should have a smooth dough. If you're kneading by hand, you will want to knead for 15 minutes on the counter or until you have a smooth dough.
Place the dough in a lightly oiled bowl that is covered with a lid or plastic wrap and place it in a warm spot in your kitchen for 45 minutes.
After 45 minutes, with a slightly wet or greased hand, fold the dough over itself in the bowl 7 or 8 times. Just pinch one corner, stretch it straight up and fold it down over the dough. Rotate the bowl slightly and do it again. Repeat 7 or 8 times. This is called a "stretch and fold." It helps build structure and gluten in the final bread.
Cover the bowl again and rest the dough for another 45 minutes.
Repeat the stretch and fold from above. The cover bowl and rest the dough for an additional 45 minutes.
Shape the dough into six or seven even-sized pieces. I usually use a scale to be precise. Form each dough into a ball and let the dough balls rest on the counter for 15 minutes prior to final shaping.
After 15 minutes, using your hands, shape each dough ball into a flat rectangle about 6 to 8 inches by 4 inches. Roll each rectangle tightly on the long side. So, you should end up with a cylinder that's about 6 to 8 inches. When you're done rolling, pinch the seam closed very well and roll the dough log/cylinder on the counter 3 or 4 times to help shape. Taper the ends if you want for a more professional look. Place all shaped rolls on a sheet pan and allow to rest for 1 to 1.5 hours.
After 1 or 1.5 hours of final rise time, pre-heat your oven to 450 degrees F (230 C).
Place a roasting pan or oven-safe pan on the bottom rack of your oven during the pre-heating time.
After the oven has pre-heated, spray all your rolls liberally with water and add your sheet pan with all your risen and shaped doughs.
Add 2 cups of hot water to the preheated pan in the bottom of the oven and quickly close the door. I use the microwave to heat up the 2 cups for about a minute, but you can bring it to boiling in a pot on the stove if you prefer.
Bake for 20 to 25 minutes rotating halfway and spritzing with more water at the halfway point. Be careful opening the oven door because there could be a lot of steam coming out.
After your rolls have achieved the level of browning that you desire, remove them from the oven and allow them to rest on a wire rack before serving.
Have you made this recipe? Tag @beerinator and let him know!
---
---
Advertisement
---
---