Hot dog chili
This page may contain affiliate links. As an Amazon Associate, I earn from qualifying purchases.
PREP TIME
5 minutes
COOK TIME
35 minutes
TOTAL TIME
40 minutes
No beans in this chili, but it's perfect for topping a hot dog or burger. This type of chili is also superb for chili cheese fries.
Ingredients:
1 lb ground beef

1 tablespoon tomato paste

1⁄2 cup water or beer or beef broth

8 oz canned tomato sauce

1 tablespoon worchestershire sauce

2 teaspoons chili powder

1 teaspoon onion powder

1 teaspoon garlic powder

1 teaspoon salt

1 teaspoon black pepper
Directions:
In a medium pan over medium high heat, brown your ground beef. With your spoon or spatula try to break the meat up into small pieces while it browns.
Once the meat is browned and cooked through, drain and remove all of the grease and liquid from the pan.
Add the tomato paste to the meat and return it to medium heat. Cook tomato paste for a couple minutes, stirring it into the meat.
Add tomato sauce, water/beer/broth to the pan and stir everything to combine.
Add worchestershire sauce, chili powder, onion powder, garlic powder and salt and pepper.
Bring chili to a simmer in the pan.
While chili is cooking and simmering, use a potato masher to mash the meat and chili. I like to twist the masher. You do this to get you the texture and consistency that you need.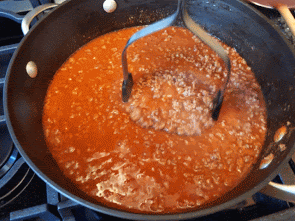 Cook the chili until you get a somewhat thick consistency. It usually takes about 10 to 15 minutes of simmering.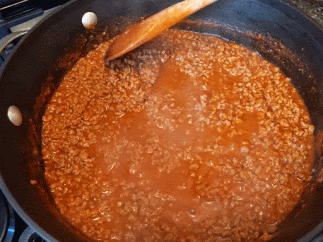 Now you're done. Add chili to hot dogs or burgers.
Have you made this recipe? Tag @beerinator and let him know!
---
---
Advertisement
---
---